Participation
in Extensive reading challenge, November 2014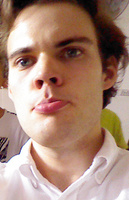 马智宁
18 minutes
0.3h
shui4qian2 gu4shi5
xian4zai4 chi1fan4. wang4ji4 han4zi4
37 minutes
0.62h
成语的故事好像太文言的,所以我换个故事。现在看睡前故事。
64 minutes
1.07h
My sister-in-law's baby interrupted me.
15 minutes
0.25h
略论中国人的脸
太难了。下次是,Historical Stories of Chinese Idioms
50 minutes
0.83h
It's pretty hard. Lot of words I don't know, but I'll get there. I know!
38 minutes
0.63h
Pretty well, reading 渔夫和金鱼 now.
7 minutes
0.12h
It went well. Going with some basic material in Wenlin.
| | |
| --- | --- |
| Challenge time progress: | |
| Goal progress: | |
| | |
| --- | --- |
| Score | 28.31 |
| Rank | 2nd |
| Hours reported | 28.31 |
| Profile | |
| Goal | 68h |