Participation
in Extensive reading challenge, November 2014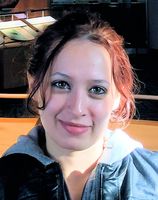 Malu Lomeli
38 minutes
0.63h
I was on a trip and was not able to read as much or report it.
36 minutes
0.6h
On the trip I was able to read this much (on the second day)
25 minutes
0.42h
Reading 盲人国 . Chapters: 2,3,4
50 minutes
0.83h
read the introduction and first part of my first 750 word level book 画皮。There are many many new words and many words I had learned before and forgotten. I need to review now. I read 7.5 pages this time.
45 minutes
0.75h
8 pages from Chinese reader 1 (1000 character level)
58 minutes
0.97h
I read chaper 8,9 and 10 (18 pages) from 出事以后 (Level 2. 500 word level)
There are many new words, but I feel my reading is improving. I read aloud.
| | |
| --- | --- |
| Challenge time progress: | |
| Goal progress: | |
| | |
| --- | --- |
| Score | 5.34 |
| Rank | 31st |
| Hours reported | 5.34 |
| Goal | 20h |