Participation
in Pronunciation challenge, October 2022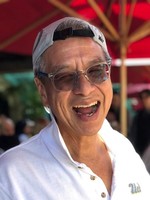 Raymond Moy
30 minutes
0.5h
Glossika Halloween shadowing. Bu! Nice doing this challenge with you all. I learned a lot, about what I don't know about pronunciation. 开门,is theoretically kai1men2. But at the end of a sentence it sounds more like kai1men5.
30 minutes
0.5h
Glossika shadowing. 我们只收现金。wo3men5 zhi3 shou4 xian2jin1. We only accept cash. The Glossika speaker pronounces the last character as a neutral tone rather than a first tone. In my pronunciation I definitely make it a first tone.
30 minutes
0.5h
Glossika shadowing. I guess my aim in pronunciation is to be understood by a native speaker. I don't need to sound like a native speaker. My perception of the tones is often quite different from the transcriptions. I can confuse 1st, 2nd, and 4th tones, as well as 4th and 3rd tones.
30 minutes
0.5h
Glossika provides both the Pinyin and IPA transcription of their exercises sentences. The IPA seems to handle the sandhi tones pretty well, but I don't know if they consistently mark the spoken tones correctly. I definitely hear a difference.
30 minutes
0.5h
Glossika. Question what is the rule for pronouncing three third tones in a row? E.g., 我可以? Glossika said it was 323. But I seem to remember that I've seen 223.
50 minutes
0.83h
工作很努力。gong1zuo4 hen3 nu3li4. The work is very hard. I thought that li4 in nu3li4 would be pronounced with a definitive 4th tone, but the Glossika speaker said it slightly drawn out as if it were a 3rd tone. I wonder if this makes any difference to a native speaker. Is this an accent issue, or do Chinese not really care about how characters are pronounced at the end of a sentence.
30 minutes
0.5h
Glossika shadowing. I noticed that when a sentence ends in a tone 1, the pronunciation of the Glossika speaker is either neutral or a third tone. For example in 完全不如预期,wan2quan2 bu4ru2 yu4qi1, It wasn't as expected. The only time I've noticed that a last character 1st tone is pronounced as a first tone is the question particle 吗。
80 minutes
1.33h
Returning after a weekend in the countryside. More Glossika shadowing and text vocabulary tones. In the sentence 自己给自己,to give to oneself, Google translate says that 给 has the pronunciation ji3, instead of gei3. I'm wondering if this correct. My Pleco dictionary says gei3 means to give, while ji3 means to supply.
40 minutes
0.67h
Glossika shadowing. Here's a sentence that taught me something new pronunciation wise. 我来验血的。wo3 lai2 yan4 xue2 de5. The Glossika speaker says wo3 lai2 yan4 xie3 de5. I would have used the xue2 pronunciation, but Google translate and Pleco show the xie3 pronunciation. I have no idea how this should really be pronounced.
30 minutes
0.5h
我会上闹钟,wo3 hui4 shang4 nao4 zhong1, I have to set an alarm. This sentence has three 4th tones in a row, but the Glossika speaker pronounces the 3rd 4th tone with a lower tone that sounds like a 3rd tone. Is it physically possible to have pronounce two 4th tones in a row that both fall to the same level? I'm guessing native speakers make short cuts that they don't teach foreigners in the classroom.
50 minutes
0.83h
Glossika shadowing and studying tones of characters in texts. I realize I've been pronouncing yuan as yuen, e.g, 院 yuan4. 我找不着了 wo2 zhao3 bu4 zhao2 le "I couldn't find it". When I first heard this, I thought the person said, 我找不找了. The character 着,which I usually recognize as the present progressive zhe, is pronounced zhao2 when it means "come in contact with".
30 minutes
0.5h
Doing Glossika shadowing. Here's a question on the Glossika speaker's rendition of 真是罕见呀,zhen1shi4 han3jian4ya, (That's really unusual.) He did not pronounce the n's at the end of zhen or jian, so it sounded more like zhe4 shi4 hen4 jia1 a. Does a foreigner sound better trying to produce the exact pinyin, or swallowing the n's (but thinking them)?
60 minutes
1.0h
Did Glossika shadowing, and worked on correct tones for sentences in a Chinese novel. I have a pronunciation question for the phrase 在这. Can 这 be pronounced as zhe4, or is it always pronounced zhe4er, whether 儿 is there or not? I've always said it as zhe4er. Just wondering.
30 minutes
0.5h
I actually heard and matched the tones on a Glossika sentence today. Tada. 往哪个方向。
50 minutes
0.83h
For most of the sentences I'm doing in Glossika, I know what the tones of the base characters, but am not always sure about tone sandhi, and when a character gets pronounced as a neutral tone. When I speak to native speakers I don't get blank looks and they can usually understand what I'm trying to say. However, when I try to assign tones to the Glossika sentences, I'm usually wrong - maybe 50% of the time. In today's session, I got reminded again that I often mispronounce the vowel u as in 出去。It is pronounced differently in each of these characters, but I am not consistent. Also, I'm not sure if the u in 去 is different than the one in 趣。
30 minutes
0.5h
More pronunciation questions on Glossika. 我喜欢旅行。wo xihuan lvxing. 33532, but I distinctly hear 33132. Glossika says that 欢 is supposed to be neutral, but I hear it with a first tone. 走路就可以。34433. I know that the 3rd tone sandhi rules are working here, but I heard 34413. I really wonder if a native speaker can hear the difference between a spoken 33423 and a 34413. 钻石不便宜。zuanshi bu pianyi. Glossika says this is 12422, but the pronunciation I heard was 24423. There is no way the speaker used a 2nd tone for 宜。Should it be a neutral tone?
45 minutes
0.75h
Doing shadowing on Glossika. I came across the following problems. 付现金 fu xian jin Glossika says the tones are 441, but I heard 412. 查煤气 cha mei qi 224, I heard 134. 贵不贵 gui bu gui 424, why isn't bu fourth tone? For 不合 bu he, Glossika says 42. When is 不 2nd tone instead of 4th? I spent some time on the Hacking Chinese blog, but could not find the answer. Maybe it's in one of the many references cited.
SOS you just reminded me of a another rule I know about in theory, but haven't committed to muscle memory yet. This should hopefully answer your 不 tone problem: https://resources.allsetlearning.com/chinese/pronunciation/Tone_changes_for_%22bu%22
60 minutes
1.0h
While trying to shadow Glossika sentences, I tried to identify the tones being used and am having a real hard time distinguishing what I thought I heard and what Glossika's pin yin transcription says. For example, in the sentence 他睡着了, Glossika says the tones are tā shuìzháole, versus what I heard - 着 with a third tone. If I can't hear it, can I possibly be pronouncing it correctly? In the phrase, 失陪一下, Glossika says the tones are shīpéi yíxià. But I still hear 一 pronounced as a first tone. I know that the number 1 一 is first tone, but changes tone in other contexts. Finally, 不用着急, Glossika says the pinyin is búyòng zhāojí, but I thought 不 is fourth tone. Here again, I think my knowledge of tones is affecting how I hear the tones.
60 minutes
1.0h
I'm concentrating on getting my tones correct while shadowing the pronunciation of sentences in Glossika. I'm also taking sentences from a Chinese novel, 草房子 (Straw House by Wenxuan Cao) and reading them aloud. A couple of things I learned today: the phrase 大人 should be pronounced with a 4th tone followed by 5th tone (rather than 2nd tone); the character 船 is pronounced chuan2 instead of chuen2; and 旅 is pronounced lü rather than my lazy lu.
| | |
| --- | --- |
| Challenge time progress: | |
| Goal progress: | |
| | |
| --- | --- |
| Score | 13.24 |
| Rank | 1st |
| Hours reported | 13.24 |
| Goal | 14h |