Participation
in Speaking challenge, July 2015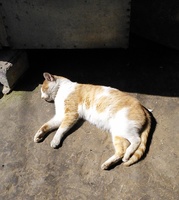 Zach!
15 minutes
0.25h
feeling like i bit off more than i could chew with my goal for this challenge! thought "hey i'll be in china, it'll be easy to get an hour per day of speaking!" but definitely did not count on the amount of work i would be doing while over here that i can (so far) only conduct in english!
60 minutes
1.0h
working on several nagging contract issues and other paperwork related business - not as much time as i'd hoped for to practice my chinese!
15 minutes
0.25h
not a very big speaking day today. too many appointments and other duties i can only handle in english at the moment.
105 minutes
1.75h
integrating over the past couple days activities, mostly conversations about easy, "getting to know you" topics, but the good news is I seem to be making myself understood.
90 minutes
1.5h
a long conversation with a colleague over dinner.
240 minutes
4.0h
arrived in Hefei, Anhui province today, spent all day chatting (or trying to) with friends
60 minutes
1.0h
conversation with native speaker and spending time speaking all of my anki reviews.
45 minutes
0.75h
discussion with native speaker
30 minutes
0.5h
conversation with native speaker
45 minutes
0.75h
Reviewing Anki cards with native speaker feedback, plus 30 minutes of conversation practice. Really trying to work on improving my 2nd tone pronunciation!
| | |
| --- | --- |
| Challenge time progress: | |
| Goal progress: | |
| | |
| --- | --- |
| Score | 11.75 |
| Rank | 2nd |
| Hours reported | 11.75 |
| Goal | 20h |