Participation
in Reading challenge, March 2021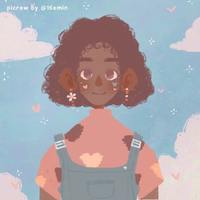 Esther
50 minutes
0.83h
《黑子的篮球》 x 2 episodes. Japanese with Chinese subtitles.
57 minutes
0.95h
Reading and analysing and translating the lyrics to G.E.M's Parallel (邓紫棋的《平行世界》)
13 minutes
0.22h
谁杀了她 - 东野圭吾
Finished the rest of the chapter.
38/250
36 minutes
0.6h
谁杀了她 - 东野圭吾
Feeling a little bit under the weather today.
35/250
20 minutes
0.33h
I'm watching a k-drama called Love Alarm 《喜欢的话请响铃》(each ep 40mins). It is in Korean but I am watching with Chinese subtitles. As I don't understand Korean, I think this counts.
58 minutes
0.97h
谁杀了李市长?(Wordswing)
Yay! Successfully solved the crime. Very much enjoyed this story. I became paranoid and started taking notes just so that I didn't miss any pertinent information to the case haha
32 minutes
0.53h
谁杀了她 - 东野圭吾
Just finished up chapter 4. I'm invested in the main character and her relationships but at this point, afraid for her.
Plenty of useful phrases mined for later study and us.
31 minutes
0.52h
谁杀了李市长?(Wordswing)
Seems there is a running theme with my reading material today. So tempted to make my way through the whole story, but I've got to sleep now haha (02:05am)
48 minutes
0.8h
亚人 (漫画)
This is a manga that has been translated into Chinese. I was reading it last reading challenge too. I think the story is so great.Definitely hoping to progress a lot further with it this time.
82 minutes
1.37h
谁杀了她 - 东野圭吾
All I know is that this book is a 推理小说murder mystery. I'm reading the translation of this Japanese novel and so have resulted to looking up how to say the names of people in Japanese. I find it easier to say the names in Japanese with my "inner voice" when reading. I'm enjoying it so far; no mystery to be solved yet.
| | |
| --- | --- |
| Challenge time progress: | |
| Goal progress: | |
| | |
| --- | --- |
| Score | 8.06 |
| Rank | 30th |
| Hours reported | 8.06 |
| Goal | 15h |