Participation
in Vocabulary challenge, June 2021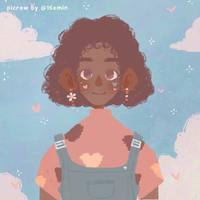 Esther
52 minutes
0.87h
reviewing notes and vocab from chapter 36.
21 minutes
0.35h
Did a little review of some of the vocab that I highlighted yesterday in the articles I read on In the Mood for Love. A little bit tired to go through them all today. I hope that I can make some more progress tomorrow.
32 minutes
0.53h
anki review, worked on incorrect ones for a bit
64 minutes
1.07h
[16mins] anki review
[48 mins] worked on 6 bits of vocab that I kept getting stuck on in anki (English-Chinese). Trying to build more of a feeling for the terms; had to break them down, find more context for them, and example sentences, etc.
52 minutes
0.87h
worked on half my vocab notes for the podcast. Reviewed meaning, found example sentences and anki-fied. Only got through half before getting a bit tired
35 minutes
0.58h
recap of vocab collected from the podcast on periods.
58 minutes
0.97h
[10 mins] Anki Review
[48 mins] 打个电话给你 93 女生的大姨媽不是正在來,就是在來的路上 About Period. Got a lot of useful vocabulary on periods. Looking forward to reviewing the new list.
44 minutes
0.73h
Working on unknown vocab and useful phrases from the Loud Murmurs' transcript of the first episode on the Sound of Metal, which I have listened to before. Still got a long way to go but definitely enjoying revisiting the content.
30 minutes
0.5h
I met a new friend today. He was so nice and such a cool teacher. He taught me a lot of new phrases during the course of our at least 2-hour conversation. I think I'll never forget 令人发指 (and that is coming from someone who really needs to put in a lot more effort to learn idiomatic expressions.)
23 minutes
0.38h
Anki reviews
+ selection of only one piece of phone vocab
43 minutes
0.72h
Reviewed some vocab from old notes and anki-fied them
23 minutes
0.38h
So I couldn't in good conscience go to bed without doing the normal Anki review. It was nice that the flashcards from the news articles about space came up.
17 minutes
0.28h
Anki-fied new vocab (I don't think it counts as review really)
Unfortunately too tired to do anything else today. Hopefully, I can make up for it tomorrow. I have some interesting vocab that I picked for today's long meetup that is in need of real reviewin'.
27 minutes
0.45h
picked ten bits of vocab from my phone vocab collection, reviewed and anki-fied. I definitely need to have a look for example sentences, especially as there are a few I am hoping that I can use in my own writing soon. I need to develop a feel for how they are used. I just can't do anymore today. Too tired.
19 minutes
0.32h
Anki review (short and sweet. Glad to see that some of the vocab introduced at the start of the challenge is still sticking. There are a few that I need to work on a bit more though...)
204 minutes
3.4h
[27 mins] Anki review
[73 mins + 104 mins] mined news articles from NYT, BBC and a very short one from Xinhua. Any unknowns or useful vocab was put into anki. Did a break down of the unknown and found example sentences where I could (also anki-fied). I'm gonna try and talk about this with language partner tomorrow to see if anything is able to stick in long-ish term.
Sounds like an awesome study session! Have fun talking with your 語言夥伴!
谢啦!!!(I forgot to say what the articles were about! hahaha! The Shenzhou-12 launch; definitely went down a little rabbit hole on that haha)
Awesome! That was some big news. And nothing like a rabbit hole to learn loads of new stuff :)
70 minutes
1.17h
vocab review and anki update. Just refreshing my memory on vocab and sentences that I should feel comfortable with. Some of them had slipped my mind, so I had to put a little star next to them.
31 minutes
0.52h
[10mins] quick go over the words that I didn't know from today's conversation with my friend.
[21 mins] anki review
59 minutes
0.98h
went through a news article textbook article, that I didn't read in the past and pulled out vocab that I either didn't know the meaning of or didn't feel confident in how to use them. I still have to go into them in more depth...probably tomorrow
53 minutes
0.88h
Yay for train journeys. Flashcard review
41 minutes
0.68h
reviewed yesterday's new vocab from 说唱新时代 , got multiple example sentences for 3 of them. Practiced forming those sentences from English translation. Anki-fied them
56 minutes
0.93h
12 mins - review and found sentences for vocab in collection, still need to make flashcards for them
44mins - vocab review
41 minutes
0.68h
collected new vocab from说唱新时代 ep1, noted context, looked up meanings. I'm hoping to include some of the vocab in some writing that I will do next week.
64 minutes
1.07h
reviewed, found example sentences for and made flashcards for vocab in my phone notes collection.
124 minutes
2.07h
248min/2 ---> Reviewed idiomatic expressions and example sentences and put them into Anki.
Noted unknown vocab in its sentence in articles on the first episode of Loki. I'm yet to put them in Anki.
Reviewed vocabulary saved on my phone; put them in Anki.
[Pretty sure, I won't be working as long as I did today in future. This is definitely just first-day excitement, and today I just happened to have time. I have a whole load of vocabulary saved from conversations with my friends, dramas and news articles on my phone. I'm hoping I can make my way through many of them this month, making notes and flashcards as well as finding example sentences and making flashcards for them and then, of course, review. We'll see how it goes. ]
| | |
| --- | --- |
| Challenge time progress: | |
| Goal progress: | |
| | |
| --- | --- |
| Score | 25.21 |
| Rank | 2nd |
| Hours reported | 25.21 |
| Goal | 25h |